---
Repair / Replace RV, Car and Truck Windshields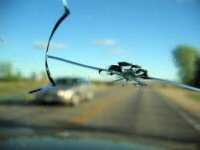 Whether it's a chip, ding, star break, bull's-eye, edge crack or any other kind of windshield fracture. The trained glass technicians at Auto Glass Boss can probably fix it in under an hour, depending on the degree of damage. Sometimes, you have no choice other than windshield replacement. Windshield repair, of course, is much less expensive, and Auto Glass Boss can help you with the insurance benefits.
Don't wait until it's too late...
Auto glass repair is considerably less expensive than replacement. But if you wait too long, and the damage has time to spread, windshield repair will no longer be an option. Safety is an important issue too. A faulty windshield compromises the safety of you and your passengers. Its ability to withstand an impact is substantially weakened. In today's vehicles, windshields are an important component of the vehicle's overall structural integrity, so you don't want to put it off until tomorrow. A repaired windshield can save you money, and worry.